Veterinary Oncology Center Celebrates One Year Since Opening - July 28,2011
One year ago today, VOC opened the doors to see the first patient – a dog named Becky that needed to continue treatment for lymphoma. She was 12.5 yrs old and was a previous patient I started to treat in April 2010. Watching her trot happily in our sunny lobby made the tiredness caused by the fast-paced two-month remodeling project called VOC go away, leaving just the desire to help. To help Becky and others like her that were unfortunate to have a diagnosis of cancer fight for their lives. To help owners like Becky's mom to understand their options and stay strong through the journey ahead.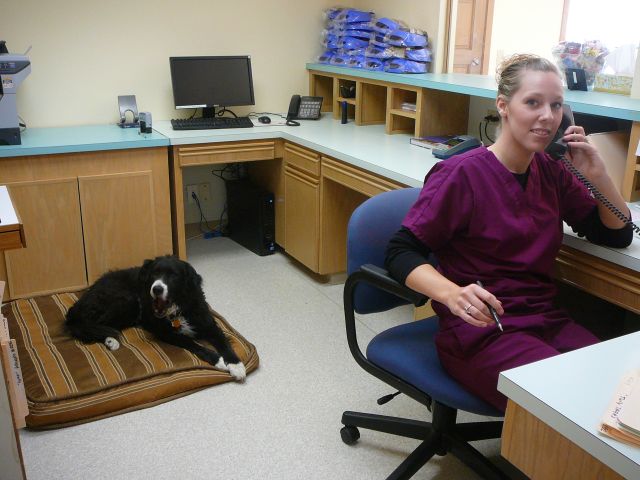 Becky at Veterinary Oncology Center waiting for her chemotherapy treatment
It is truly incredible to look back on this past year and think what our small and nimble team of five staff members and a doctor can accomplish when we are all focused on the task at hand with a positive attitude, compassion and a great desire to help. We are a clinic dedicated to the care of cancer patients, offering high quality diagnostics and treatments and we stand proud of our accomplishments. It is said that it is not the place that makes the people, but the people make the place and this stands so true for VOC. A year after opening, I feel very fortunate to find myself surrounded by people that share my beliefs and values about veterinary care, that put their heart and soul in giving the best care to our clients and patients.
Celebrating this milestone, I am thankful for every one of the people that are making it possible every day: my exceptional staff (Jessica, Melanie, Stacey, Niccolle and Ashley) for treating each patient as their own; Dr. Bob Kramer (our radiologist) for traveling twice a week from up-north to work with us and allow us to provide exceptional radiology support to our patients; Phoenix Laboratory for super fast turn-around on bloodwork, making it possible for us to treat patients with great confidence in the results we get; Susan and Cynthia from VP&Z for making accounting so much more bearable for a doctor with zero experience in accounting; my husband, Juan for believing in me when I did not have the same confidence in myself and always being here to support the clinic, no matter of the job.
We would not be where we are today if it wasn't for the trust placed in us by our referring veterinarians and clients. Cancer care is about trust, about forming the team that best fits your beliefs and expectations to guide you as a pet owner though a journey that is often a roller-coaster of emotions and uncertainty. We are very grateful for being included in the care of our patients and we look forward continuing to support cancer patients and their owners!
A milestone is also a time to think of the future. No matter of the accomplishments, there is more to do. While we thrive to meet and exceeding the expectations, we welcome suggestions for improvements. Please let us know what can we do different or better!
These days Becky is 13.5 yrs old, without evidence of cancer and enjoying her golden years with her mom on Vashon Island. Thinking of her and many other patients that have left their pawprints on our hearts, makes the last year so worthwhile...so we look forward to another year of hard fight against cancer!
Luminita Sarbu, PhD, DVM, Practice Limited to Oncology